"I am determined … to serve the suffering humanity, defend principles of religious freedom, human equality, social justice and rights of minorities."– Minister Shahbaz Bhatti

We woke this morning to the sad and shocking news that Pakistan's Minister for Religious Minorities, Shahbaz Bhatti, the first Christian invited into the Pakistani Cabinet, was assassinated by gunmen on his way to work (Mar 2, 2011). Bhatti had been actively seeking reform to Pakistan's harsh Blasphemy laws that impose the death penalty for insulting Islam. Minister Bhatti understood well the risks associated with his activism. In early January, Salmaan Taseer, Punjab's governor and another outspoken opponent to these laws, was also assassinated.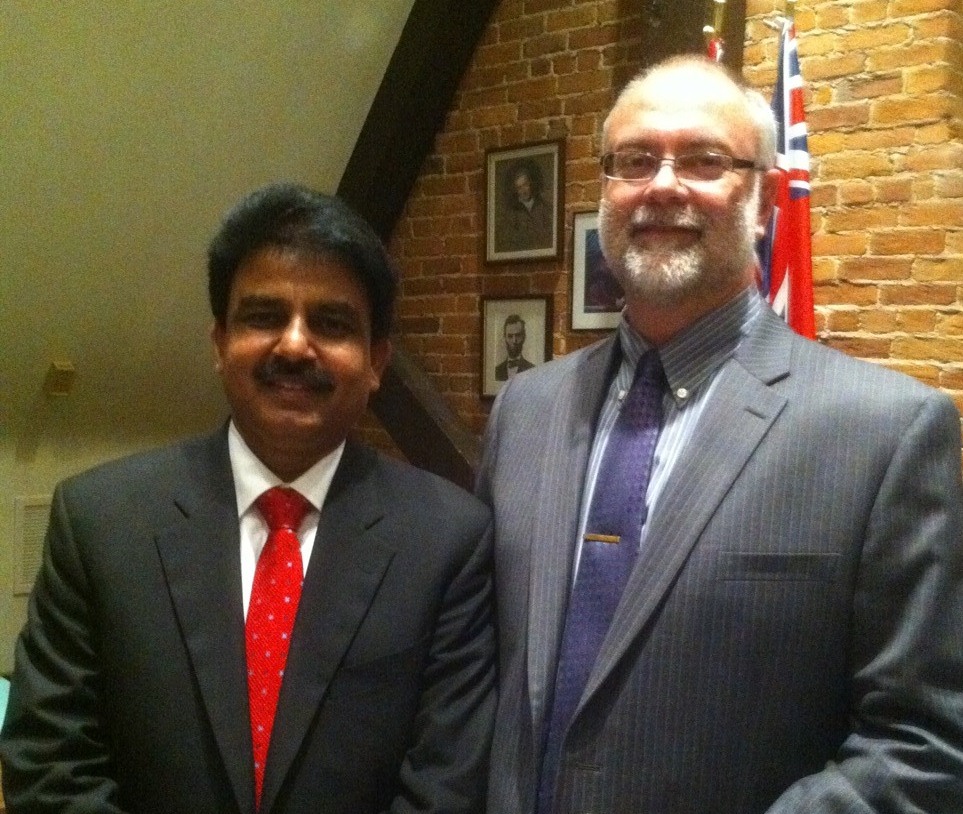 During his visit to Canada last month, Minister Bhatti met the EFC's Don Hutchinson at a reception here in Ottawa, and the two had a chance to speak on a more personal level about his hopes for Pakistan and his personal faith in Christ. Hutchinson said in his blog of Feb 16, 2011
"This remarkable and humble man knows his life is threatened – he has experienced assassination attempts and he has spent time in prison for his faith – and knows his international travel presents opportunity to leave Pakistan and to carry on his pursuits from safer quarters."
Bhatti bravely chose to return to Pakistan. Only hours after his death, a YouTube video was released by English Al-Jazeera, in which Minister Bhatti speaks openly about the threats to his life and who may be behind them. He also gives a personal account of his faith and dedication to Christ, and explains his decision to continue to work for reformation to Pakistani law to see true religious freedom – not only for Christians, but for all minorities.
Shahbaz Bhatti was a man who loved the people he served, and loved his God — even unto death. As you listen to Shahbaz in this video, and his words – which now seem prophetic – you can't help but feel that you have heard the voice of a true martyr. He understood what the cost would be for his ongoing efforts, and chose to persevere.
Consequently, I am sure that Shahbaz Bhatti would not be satisfied with simply a celebration of his life and good works, but would have hoped that his death would awaken the world to the very real need for true religious freedom, for respect of every minority, every religion, in every country.
In an email sent from Shahbaz himself to a Geoff Tunnicliffe, International Director of the World Evangelical Alliance, the day before his assassination, Shahbaz said:
"I personally believe that it is Jesus Christ who has once again bestowed unto me this responsibility and position with a special purpose and mission to serve the suffering humanity and I am determined to carry on defending the principles of religious freedom, human equality, social justice and the rights of minorities."
In a chilling yet inspiring observation, Don Hutchinson noted after speaking with Shahbaz:
"On our meeting in the cold and freedom of Ottawa, Shahbaz Bhatti was preparing to head home and asked not for a more trustworthy security detail but for prayer, so I'm inviting you to pray with me: for him; for the Christians daily facing persecution in his country; and, for the changes needed to secure the freedom of religion that was envisioned by the nation's founder for all of Pakistan's citizens."
And so, in honour of this man and his work … Let us pray.